Your One-stop-shop for All Things Plant-based is This Company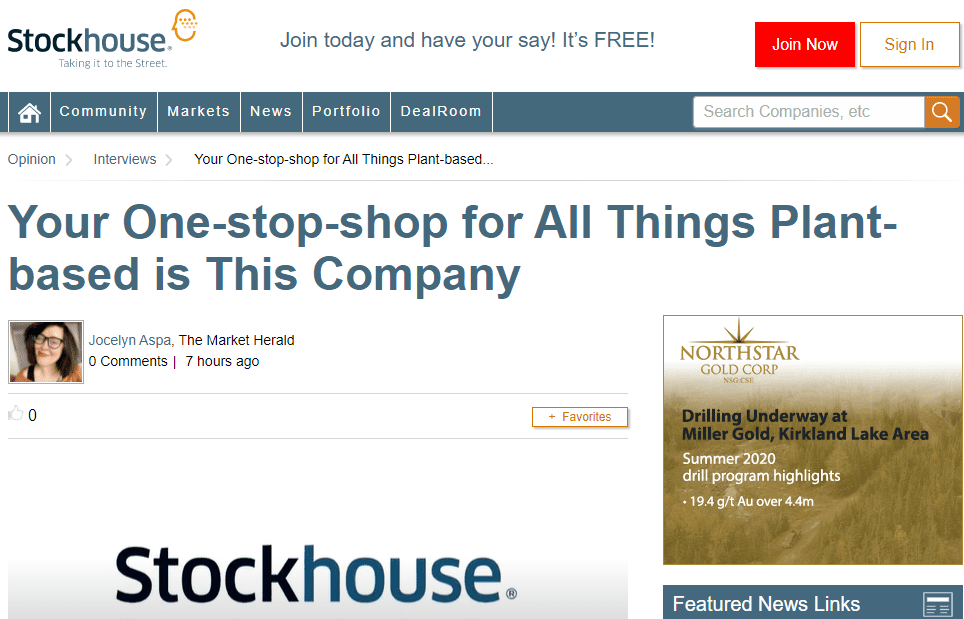 It's no secret that the alternative meat and plant-based sector has gone through tremendous growth over the last several years as people shift away from animal-based products. Similarly, companies are also capitalizing on the interest in these products, which is also fuelling that growth.
Meet the digital face of the plant-based community: PlantX (CSE:VEGA, OTCQB:PLTXF, Forum). The company is a digital-based one-stop-shop and distribution company where consumers can purchase a wide range of plant-based grocery items, pre-made meals, indoor plant deliveries and other plant-based items.
Stockhouse Editorial's Jocelyn Aspa recently caught up with Plant X's Founder, Sean Dollinger, to discuss the company's e-commerce platform and recent news investors should be aware of.
TRANSCRIPT BELOW
SH: First, can we start by providing us with a little bit of an overview of yourself and the company?
SD: My background is 20 years of specialty e-commerce. My last company went from $6 million to over $1 billion dollars in about a year and a half and left that company thinking, "how could we change the world?" And you know, I've been on a plant-based journey for about 10 years and lost 60 pounds. So I figured, I'm not only physically, but mentally doing so much better and thought that'd be the best way to give back. And that's exactly what we started in April of 2020.
SH: Awesome. Can you tell us more about PlantX's recent announced partnership with Chief Matthew Kenny?
SD: Matthew in my eyes, is one of the top vegan chefs in the world, he's opened up 55 restaurants around the world, has a dozen cookbooks. He's just absolutely incredible. And at the end of the day being able to work with somebody with that type of knowledge, just leaps us ahead of all of the competition. And we're just so thankful for the relationship.
SH: You've also had some other recent collaborations that you announced, like the collaboration with Venus Williams and the Hudson's Bay marketplace. Can you talk a little bit about those as well?
SD: Venus Williams household name around the world. She speaks about how a plant-based lifestyle has helped her on the court, off the court with everything. So having someone as recognizable as Venus Williams joining PlantX — a great company from Canada. I think speaks wonders and the Hudson Bay Corporation, when they approached us to join their marketplace, how could we say no to the oldest company in Canada to approach us to add a couple of thousand products to their marketplace.
SH: For sure. It is definitely exciting, especially with such a household name in Canada, for sure. The company describes itself as the digital face of the plant-based community. What makes Plant X unique from maybe other sort of similar companies in the space?
SD: So not only are we the sales platform for your one-stop shop for everything plant-based — from meal delivery to grocery, to plants from the home — but what we mean by the digital face of the plant-based community as well is we try to form a community around like-minded individuals who believe in the plant-based movement or curious about it, who want to give it a try. So that's what we refer to in that.
SH: Sure. No, that makes sense, what inspired you to start the educational plant-based YouTube series "Taste This!"?
SD: We just thought it'd be really cool. There's so many new products coming out and Alex [Hoffman] and I, the CMO of the plant decks and co-founder of the company, came up with this really cool idea. And then Adam [Kruger] contacted me from Los Angeles, who I knew from 20 plus years ago, and kind of everything aligned. And we shared the idea with them about people trying all these new products live on camera, giving their true feedback and introducing them to the product. So we just thought it'd be a fun way of sharing for sure.
SH: Plant X just announced this month as well that it had added perishable refrigerated and frozen goes to its growing list of grocery items. How important is it to have access to these kinds of food items?
SD: Calling yourself the one- stop- shop for everything plant-based, but then not having refrigerated or frozen items would make no sense. So as time goes on, we're just going to continuously expand our platform to plant-based cosmetics, vitamins, pet food, and everything. So, it just made sense to start shifting into that whole space, right?
SH: For sure. Adding to that, obviously the company is fuel for growth this year. What does PlantX have planned for the rest of 2021 that investors might want to watch out for?
SD: Just keep following the story, listen to what we've put out there and make sure that we keep executing. Like we have just since August of 2020, we've just been public for only about six months. We already have over 10,000 shareholders. We've raised over $35 million. We have over $25 million in the bank, no debt whatsoever on pace to do about 20 million in revenue this year for a microcap company in Canada. I think we tick all the boxes for investors and shareholders.
SH: For sure. Adding to that a little bit, what is PlantX's business model and how does it make money?
SD: We're really focused on education. Tesla and Apple, two of the biggest technology companies in the world for Apple to have stolen 50% plus of market share from Microsoft that was dominating in, and for Tesla to come in out of nowhere and educate people on why an electric car is better and why their vehicle is so much better. Same thing. People think plant-based eating is just plants, eating pasta and bread. But you know, these days in 2021, I could blindfold you and give you a cheese test and you'll be blown away. You won't be able to tell the difference. So I think people should just keep watching what we do and it's pretty amazing.
SH: For sure. It is definitely a unique opportunity out there. Finally. Is there anything else you'd like to add that I might've missed?
SD: No, I don't think so. I think you hit it bang on. I think that people should watch for the brick and mortar stores that we're coming out with. Remember at the end of the day, we are an e-commerce company and these brick and mortar locations act in two ways: education and distribution. So that's really the idea behind it. So I don't want any of your investors or shareholders to be like what's going on. At the end of the day, we are at our heart, an e-commerce company
FULL DISCLOSURE: This is a paid article produced by Stockhouse Publishing.