103. Sean Dollinger: Making Plant-Based More Inclusive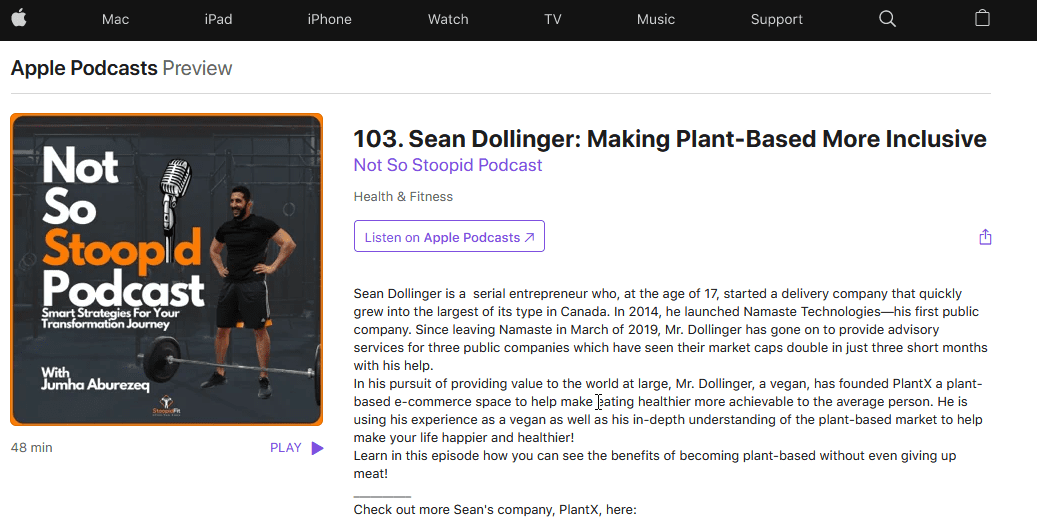 Sean Dollinger is a  serial entrepreneur who, at the age of 17, started a delivery company that quickly grew into the largest of its type in Canada. In 2014, he launched Namaste Technologies—his first public company. Since leaving Namaste in March of 2019, Mr. Dollinger has gone on to provide advisory services for three public companies which have seen their market caps double in just three short months with his help.
In his pursuit of providing value to the world at large, Mr. Dollinger, a vegan, has founded PlantX a plant-based e-commerce space to help make eating healthier more achievable to the average person. He is using his experience as a vegan as well as his in-depth understanding of the plant-based market to help make your life happier and healthier!
Learn in this episode how you can see the benefits of becoming plant-based without even giving up meat!
__________
Check out more Sean's company, PlantX, here:
https://www.instagram.com/goplantx/?hl=en
___________
WATCH This Podcast On Youtube Here: https://www.youtube.com/channel/UCerchi4_C77ZJAJqCiXYlKA
And make sure to subscribe 😉
____________
Apply For A Free Strategy Call With Coach Jumha Here: https://www.stoopid.fit/strategycall
Get 15% Off Strong Coffee Company With Code "STOOPIDFIT" Here: https://strongcoffeecompany.com/?ref=-AdnXfp82ojl
Get 10% Off Cured Nutrition Products With Code "STOOPIDFIT" Here: https://www.curednutrition.com/?rfsn=5858183.b97141
___________
Get Your Free Copy Of "THE NUTRITION MANUAL" Your thought Free Approach To Designing Your Perfect Diet Here: https://www.thenutritionmanual.com
___________
Follow Coach Jumha On Instagram Here: https://www.instagram.com/stoopid.fit
Follow Coach Jumha On TikTok Here: https://www.tiktok.com/@stoopidfit?lang=en