CRITICAL: 86%, 115%, 1026%: THIS IS BOOMING!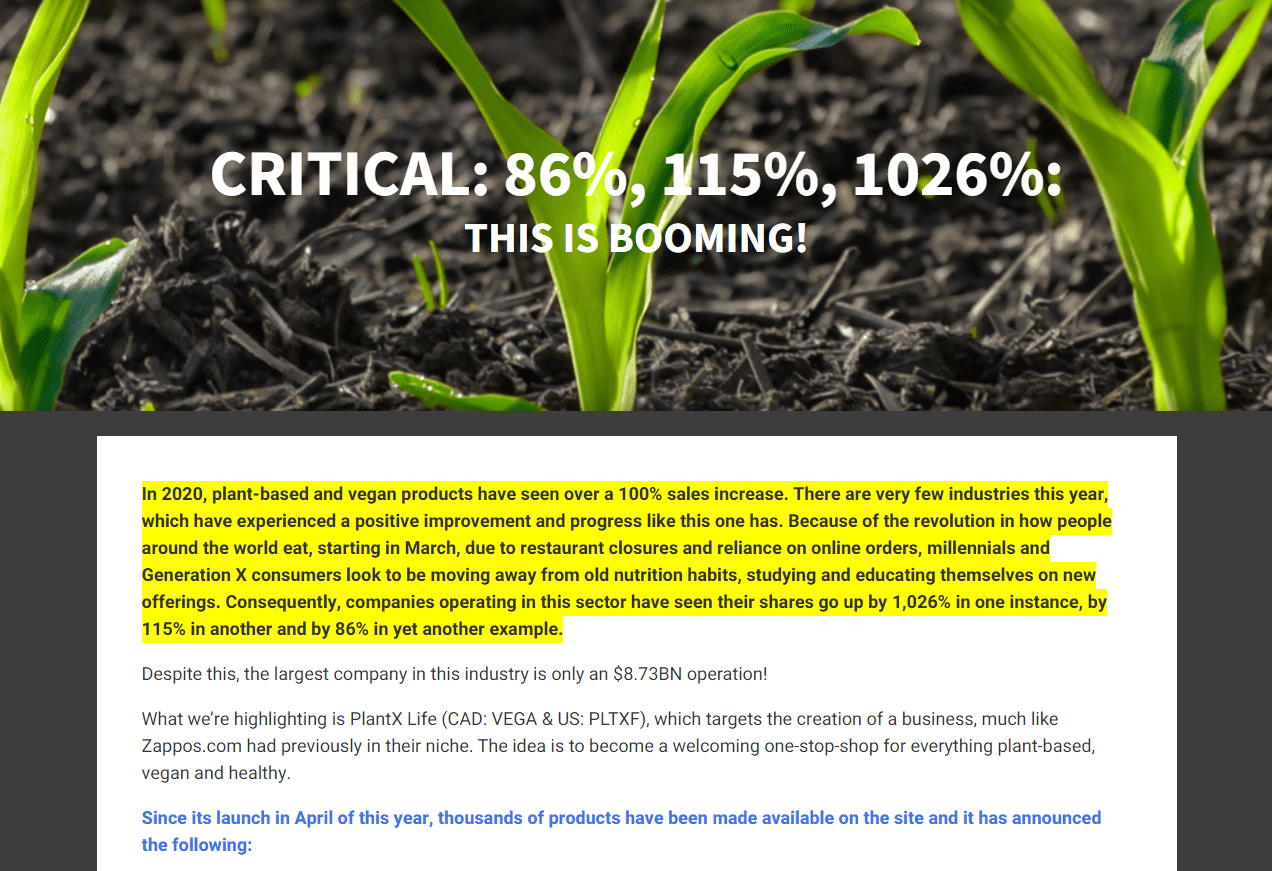 In 2020, plant-based and vegan products have seen over a 100% sales increase. There are very few industries this year, which have experienced a positive improvement and progress like this one has. Because of the revolution in how people around the world eat, starting in March, due to restaurant closures and reliance on online orders, millennials and Generation X consumers look to be moving away from old nutrition habits, studying and educating themselves on new offerings. Consequently, companies operating in this sector have seen their shares go up by 1,026% in one instance, by 115% in another and by 86% in yet another example.
Despite this, the largest company in this industry is only an $8.73BN operation!
What we're highlighting is PlantX Life (CAD: VEGA & US: PLTXF), which targets the creation of a business, much like Zappos.com had previously in their niche. The idea is to become a welcoming one-stop-shop for everything plant-based, vegan and healthy.
Since its launch in April of this year, thousands of products have been made available on the site and it has announced the following:
The company announced a deal with Hillcrest San Diego, which commits to CAD$30M of purchases!
On top of that, the company also acquired Bloombox UK, which allows PlantX to expand into Europe
The founder, Sean Dollinger, has already built one delivery business in the past, which grew to the biggest of its kind in Canada.
Its repeat customers refer to the website as "Vegan-Amazon" because it gives access to thousands of products in the categories of plant-based essentials.
What the market may now be waiting to see is how the expansion from Canada to the United States occurs, since there have been recent developments that are material and significant.
The company is planning on opening an impressive 4,515sqft retail location in San Diego to get a foot print in a major vegan hub, above and beyond their flagship store in Squamish, British Colombia.
This is just the tip of the iceberg, so to speak, since where the likely growth potential will originate from will be from the following company strategies:
The revenues in the online food delivery segment are projected to increase. The largest segment of this is restaurant-to-consumer delivery, with a projected market volume of $15 billion in 2020. The company states that this is a top-growth priority.
Founder Sean Dollinger also realized that there's a commercial need in the market for in-home plant delivery; this is a niche with sizable sales, which PlantX.com is on top of.
According to the National Gardening Association, house plant sales in the U.S have increased by 50% to $1.7 billion over the last three years. Being close to nature reduces stress and boosts immunity, so bringing plants into a home is super beneficial.
PlantX.com is building a community, a shopping experience, which is educational, sticky and welcoming – similar to what Chewy.com and Zappos.com have done, before they were sold for billions of dollars to Amazon.com!
The company currently ships plants throughout Canada and the U.S markets.
Going forward, the company plans to implement a strategic acquisition model.
Simultaneously, it will be by growing the offerings of the website to one-hundred thousand products in 2021, open its 4,515sqft San Diego mega-store, offer its recipes and custom meals through partnered restaurants and acquire brands that could be fitted under their umbrella and enhance the global reach of the company.
Study PlantX Life (CAD: VEGA & US: PLTXF)!