Growth Of Plant-Based Industry Alongside E-Commerce Creates Massive Opportunities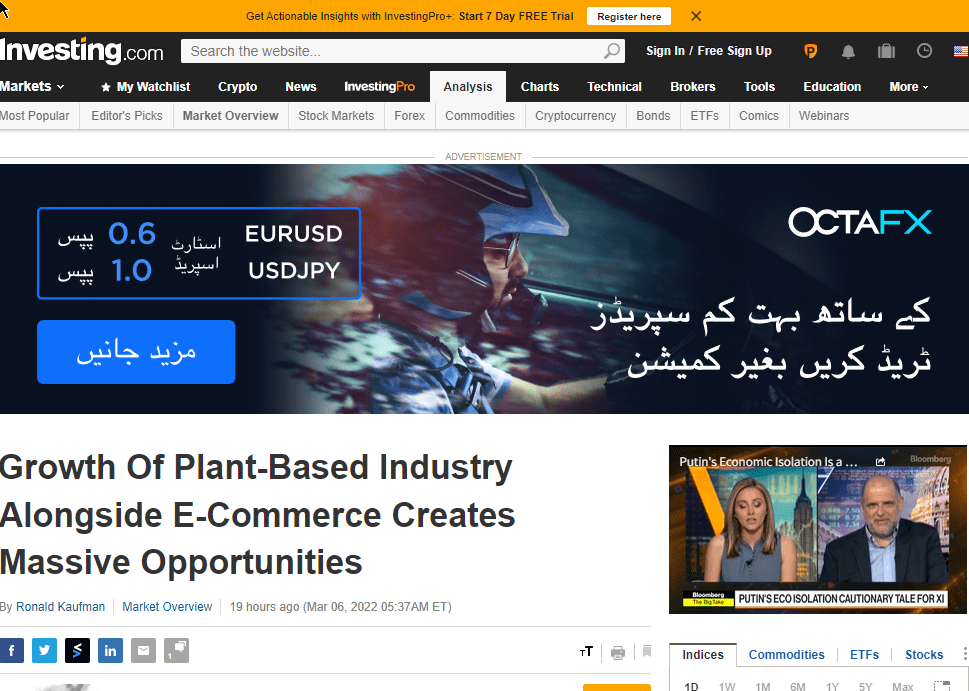 Key Insights
The plant-based community is fast growing. PlantX is aiming to be one of their leading players.
Given the growth of plant-based products and the scale that e-commerce brings, its only natural to want to invest in a company combining the two.
PlantX is combining e-commerce with retail logistics to provide a uniquely high quality service that is loved by the plant based community.
PlantX have combined a number of unique features to create a "secret sauce" for plant-based sales.
Plant-based products have grown in popularity in recent years as people are becoming more aware of how their dietary choices affect their health and the environment. The growing demand for vegan products has prompted numerous new businesses—ranging from food to beauty products—to invest more in plant-based products.
Plantx Life (OTC:PLTXF) (CSE:VEGA) is one such company, with its e-commerce platform serving as a one-stop-shop for all things plant-based.
PlantX, based in Vancouver, Canada, is at the forefront of the plant-based lifestyle movement. The online store, which offers over 5,000 vegan products as well as meal and indoor plant delivery services, is expanding its product ranges to include cosmetics, apparel, and its own water brand.
Growing Plant-Based Industry To Drive The Expansion Of PlantX
According to Statista, the plant-based food market is expected to reach a value of $161.9 billion by 2027. The increasing number of animal protein intolerants demand vegan food products, and extensive R&D investments are driving the market's growth. The data also shows that the market will be valued at $44.2 billion in 2022 and will have more than doubled by 2030.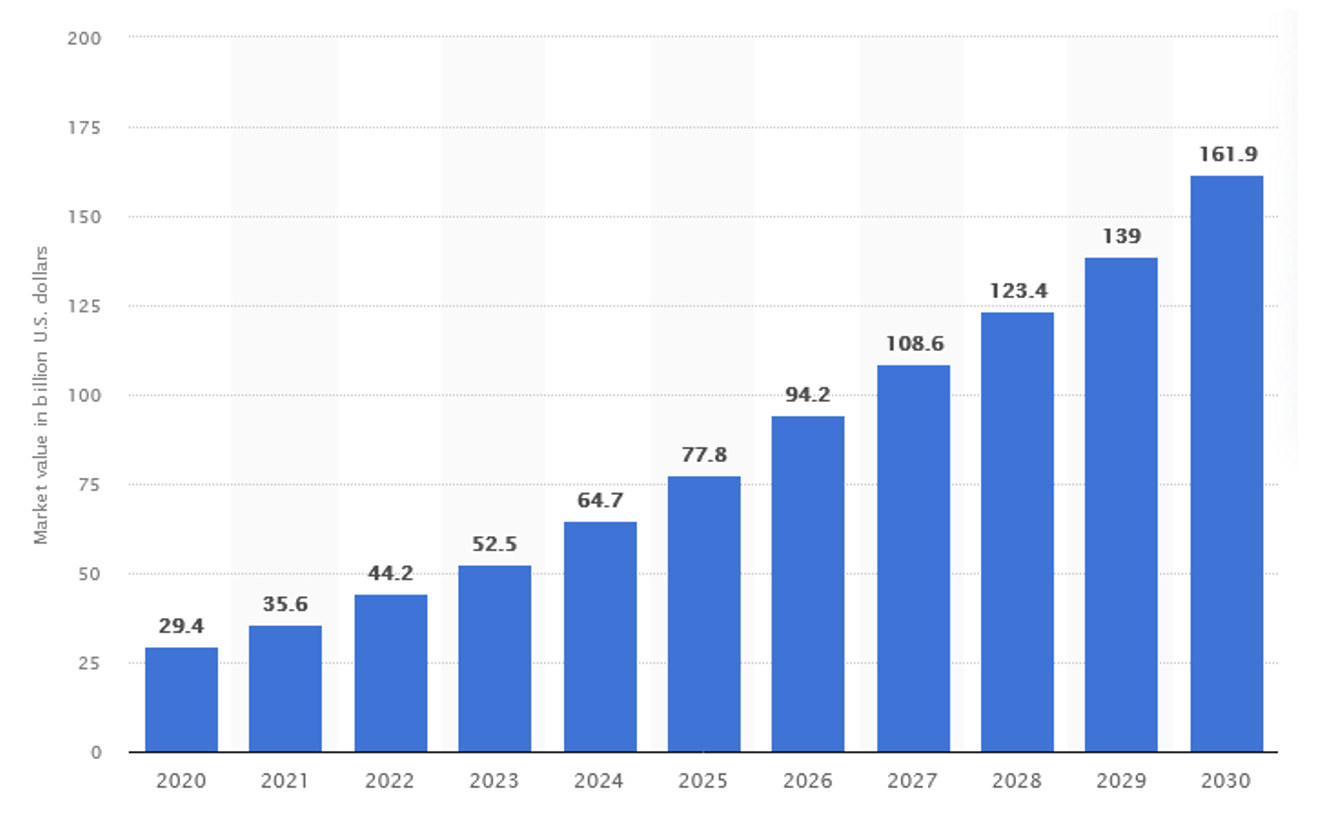 Value of the plant-based food market worldwide from 2020 to 2030
Source: Statista
PlantX, which is often referred to as the digital face of the plant based community, reported third-quarter 2022 (fiscal) revenue of C$2.7 million, an increase of 49.5% from the same period last year. The company's gross profit nearly tripled to C$0.99 million (US$0.78 million) in the December quarter, and the company ended the quarter with working capital of C$2.2 million(US$1.7 million) including $1.97 million (US$i1.55 million) n cash.
Leveraging The E-Commerce Platform
Although the e-commerce platform benefited the most from pandemic-related restrictions, the trend of online shopping is likely to continue in the post-pandemic era as well. PlantX is joining the race by mixing e-commerce and retail logistics to offer high-quality products to the plant-based community.
The company is gradually becoming the go-to plant-based brand and is now being regarded as the digital face of the plant-based community, thanks to its large assortment of plant-based items.
The company announced in December that its e-commerce platform would be expanding to the United Kingdom which is considered as a global plant-based leader, with the largest plant-based market in Europe, with meat-free food sales predicted to reach £1.1 billion (US$1.46 billion) by 2024, up from £582 million in 2014.
PlantX's subsidiary, Bloomboxclub Limited, the Company's UK-based e-commerce operation, already sells and delivers indoor plants in the United Kingdom and Germany. In addition to a broad selection of plant-based goods and indoor plant selection, the company offers a variety of educational resources, including blogs articles and recipes.
While the heart of PlantX may be e-commerce based, they have partnered with retail locations and are increasingly offering retail-like services such as same day delivery. Thus, for example, they recently announced that they are launching same day delivery Across Chicago and Plainfield, Illinois.
This seems to be yet another step in their growth and expansion strategy. We can likely expect to see similar moves around the globe by PlantX, which will continue to put them a level above other plant-based providers.
PlantX's Smart M&A Strategy Will Allow It To Scale At Pace
One of the key growth strategies followed by PlantX is to acquire high-quality companies to strengthen its portfolio of products and services. Last year, the company acquired Peter Rubi LLC, an innovative plant-based e-commerce platform, as well as coffee franchises Eh Coffee Corp. and Portfolio Coffee Inc., to broaden its product portfolio.
The company has formed partnerships with celebrity chefs and brand ambassadors such as Matthew Kenney, Justin Fields, and Venus Williams to become a top brand recognized and loved by consumers in North America and other populous regions.
PlantX partnered with Access Fulfillment, a UK fulfillment provider, to assure its growth in the UK, the world's largest plant-based product market. The company's products are also available on thebay.com and Walmart.ca (NYSE:WMT), which has contributed to the company's recent success.
It seems that PlantX has created a 'secret sauce' for online sales of plant-based products. As they acquire more and more leading brands, they are likely to be able to quickly bring them to profitability, using their technology, skills, and experience. This gives them a unique advantage over the market that will allow them to continue to achieve fast-paced growth.
Conclusion
The fast-growing PlantX's outlook is bright, thanks to its strategic investments in portfolio companies, the favorable outlook for the plant-based food industry, and the investments in advanced technologies. PlantX is expected to expand globally in the future, which could accelerate the revenue growth of the company. Growth-oriented investors might find PlantX an attractive bet today given the promising prospects for the company.