PlantX Life in charitable partnership with US non-profit After-School All-Stars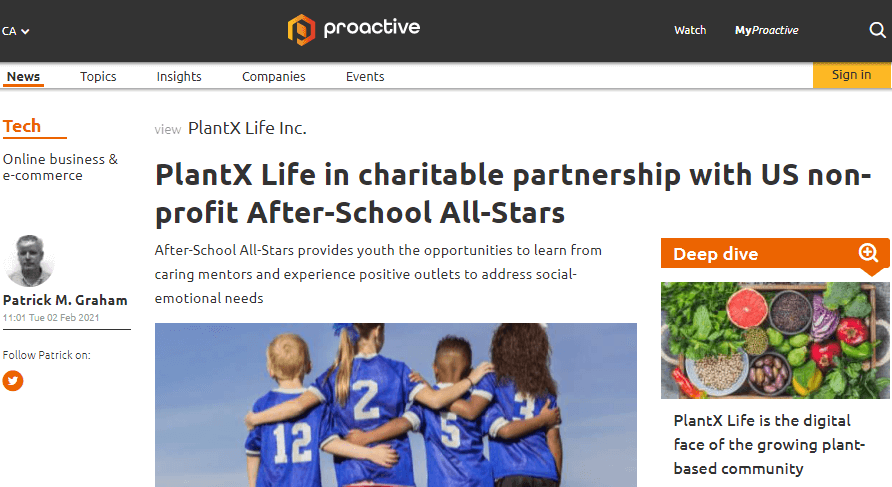 After-School All-Stars provides youth the opportunities to learn from caring mentors and experience positive outlets to address social-emotional needs
PlantX Life Inc (CSE:VEGA) (FRA:WNT1) (OTCQB:PLTXF) announced Tuesday its charitable partnership with After-School All-Stars, a national non-profit US organization that provides free and comprehensive programs designed to keep children safe and healthy — and to help them succeed in school and in life.
After-School All-Stars serves over 80,000 students in a typical school year, including 91% youth of color, and 82% who qualify for the Federal Free or Reduced Lunch Program, PlantX said in a statement.
After-School All-Stars participants live in communities hit hardest by COVID-19 and those most affected by systemic racism. Before the COVID-19 pandemic, more than 35 million people, including 10 million children struggled with food insecurity in the US. As a result of the pandemic, the amount of people affected increased to 50 million people, including 17 million children.
Despite the challenges posed by COVID-19, PlantX said After-School All-Stars has continued to provide youth the opportunities to learn from caring mentors, experience positive outlets to address social-emotional needs, and participate in virtual experiences where youth share their voices, hone creative skills, and emerge as the next generation of leaders and advocates.
Since the beginning of the pandemic, the organization has also served over 550,000 meals, completed thousands of community wellness checks on families, and continued to provide virtual, hybrid and in-person programming to students across the US.
PlantX said the partnership with After-School All-Stars is aligned with its vision to make a difference and support communities in living healthier lives. The company will aim to facilitate donations to the organization to support students and their families during the pandemic and beyond.
PlantX customers are now able to donate to After-School All-Stars before they submit their online payment on the Company's U.S. and Canadian e-commerce platforms, www.PlantX.com & www.PlantX.ca.
"At PlantX, it is part of our mission and values to improve the world and invest in the next generation," said Sean Dollinger, PlantX founder. "In these unprecedented times and beyond, we are proud of supporting After-School All-Stars and the students it serves to live better lives. We are committed to giving back in the best ways we can and contribute to the wellbeing of the communities that surround us."
PlantX will be hosting an event in collaboration with Above Food Inc, a plant-based protein company, to deliver plant-based pizza kits to participating After-School All-Stars youth. The meal-kit delivery will be complemented by offering a live cooking class that will teach participants and their families how to cook plant-based pizza.
Contact the author: patrick@proactiveinvestors.com
Follow him on Twitter @PatrickMGraham