Top 3 Stocks To Consider In The Post Pandemic E-Commerce Landscape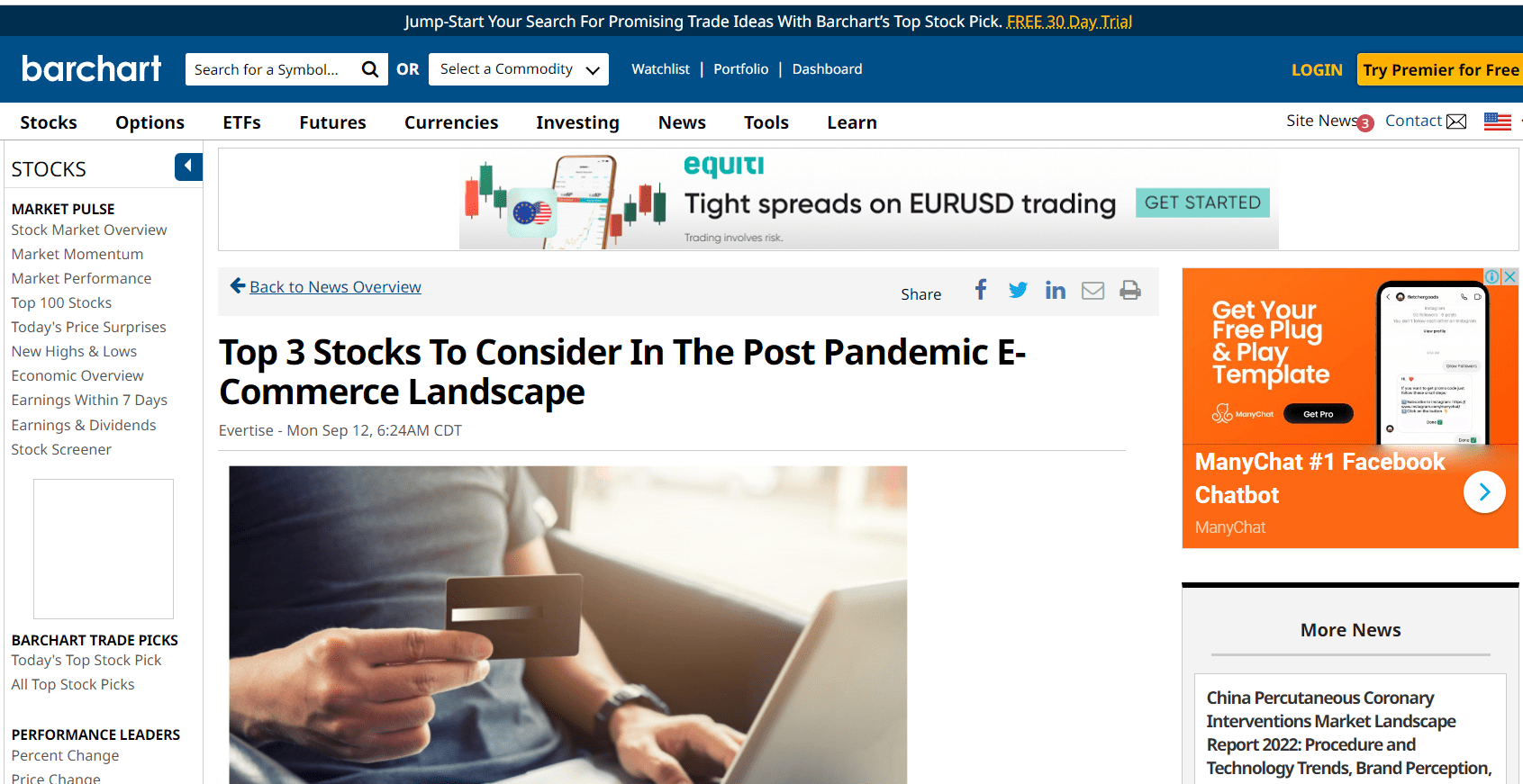 The year 2021 brought significant new opportunities for e-Commerce companies as they witnessed a surge in online shopping. The pandemic, of course, increased e-commerce activity due to the increased risk of Covid-19 infection spread in public places. The shift in shopping mode because of social distancing measures and mobility restrictions also forced many people to experience the convenience and ease of online shopping for the very first time in their lives, especially among the consumer cohort that were hesitant to use e-commerce platforms previously.
Even though e-commerce has been around for many years, a record number of customers tried online shopping for the first time in 2020, and some economies are still in the early stages of this digital shift. This means that, despite the fading pandemic boost, e-commerce companies can still expect substantial growth in the coming years.
While in-store traffic is increasing as the economy reopens, many shoppers will likely continue to shop via apps or websites because of the convenience offered by such solutions. In addition to providing health safety during the pandemic, there are other advantages to online shopping that attract customers. Some of these benefits include:
1. Online stores allow customers to browse through various products that are categorized to make product searching easier.
2. Online shopping enables customers to easily compare products and make informed decisions based on ratings and reviews.
3. Unlike physical stores, customers can access online stores at any given time.
4. The ability to make a payment without having to wait in line.
5. Keeping track of order history, which enables customers to save time because they can simply repeat their previous orders without having to browse again.
6.Gain access to rewards programs, special offers, and discounts.
7. The simple and quick product replacement and return policies introduced by leading e-commerce platforms.
Although there are some drawbacks, the e-commerce industry is evolving, improving the overall online shopping experience and encouraging new entrants and healthy competition to increase e-commerce adoption.
According to Statista, global retail e-commerce sales in 2021 were approximately $4.9 trillion. This is expected to reach approximately $7.4 trillion by 2025. The growing popularity of smartphones, laptop computers, and tablets will also propel the industry forward in addition to the aforementioned reasons.
Exhibit 1: Retail e-commerce sales worldwide
Source: Statista
Despite the many positive developments surrounding the e-commerce industry, consumer spending has slowed in the last six months as people prioritized spending on dining out and travel. This resulted in major e-commerce companies recording lackluster growth in the first half of this year. The drop in spending was also fueled by rising inflation, which is causing customers to cut back their spending on non-essential items. This, however, does not imply that the industry's growth will slow down permanently because nearly every industry is embracing the digital shift, and the direct-to-consumer model is becoming more prevalent. According to RILA survey data, executives anticipate post-pandemic e-commerce penetration to "significantly increase" to 25% to 40% of sales across categories.
Although recent market trends have weakened e-commerce sales, a few companies seem well-positioned to buck the trend and report stellar growth in the coming years because of the niche markets they are tapping into.
PlantX Life Inc.
E-commerce is expanding beyond clothing and accessories to include food and other necessities. PlantX is one such company that is leveraging digitalization to offer vegan products, meals, and indoor plants to their customers. Because of its extensive plant-based offerings, the company is known as the "digital face of the plant-based community." Despite economic challenges, the Canadian vegan brand is consistently increasing its revenue, and in August 2022, the company generated monthly gross revenue of $1.381 million, a 32% increase year-over-year. The expansion of the Little West cold-pressed juice brand, as well as the success of live events at retail locations to drive traffic, were the primary drivers of this recent growth. PlantX recently received a bullish valuation from Capital Y Management, a New York-based hedge fund, because of its ability to record consistent growth.
The company has also entered the alcohol market to expand its market presence and gain a competitive edge by providing high-quality, sustainable, and ethical alcoholic beverages. PlantX's acquired businesses are also performing well in terms of customer acquisition. The company appears to be poised for long-term growth as an important player in the fast-growing vegan products market.
Etsy Inc.
Etsy is a global marketplace for handmade and vintage items and craft supplies. Etsy's target market demonstrates how e-commerce is catering to the unique demands of a previously untapped market. The company has made it simple for artists and small business owners to run online businesses without spending a lot of money on building the necessary IT infrastructure.
Etsy, like every other e-commerce company, emerged as a big winner of the pandemic; however, ETSY stock has nearly shed 50% of its market value this year as investors remain concerned that rising prices and geopolitical conflicts will have an impact on its profitability. However, the company reported revenue of $585.1 million in the most recent quarter, up 10.6% year-over-year, driven by an increase in Etsy marketplace transaction fees, the addition of Depop and Elo7 to its House of Brands portfolio, and the strength of Etsy Ads product.
The company is strengthening its e-commerce services in foreign markets as well. For example, in Q2, Etsy added the Indian Rupee to the Etsy Payments platform, giving Indian customers a more personalized checkout experience. Etsy is a go-to place for handmade items and cool finds, and it has a lot of room for expansion outside of its home market. Etsy may be a good bet for investors looking for exposure to the e-commerce industry.
Chewy Inc.
Chewy is a market leader in pet-related products and services. Chewy has gained popularity in the last two years as pet ownership has increased across the world. According to Morgan Stanley, the number of households with pets increased by 5.6% in 2020 primarily because of the pandemic. As research shows that pets can help people deal with stress and anxiety, the demand for pet services and products has increased substantially since the beginning of the pandemic, creating a strong platform for Chewy to grow.
Chewy stock is down 38% this year as pandemic growth slowed and economic challenges put pressure on many businesses. There are short-term risks, as with many e-commerce commerce companies, but Chewy has a long runway for growth. In the second quarter, the company reported net sales of $2.43 billion, a 12.8% increase year-over-year.
Over the next five years, pet ownership is expected to skyrocket, which should lead to an increase in pet-care spending. According to the American Pet Products Association, 70% of U.S. households currently own a pet, and pet expenditures were $123.6 billion in 2021, a 37% increase from the 2018 level, driven by a trend known as the "humanization of pets." This trend will help Chewy maintain its strong growth rates, opening the doors for the company to reward long-term shareholders handsomely in the next few years.
Conclusion
Although online shopping has slowed because of unavoidable factors, long-term trends facing the global e-commerce sector suggest many companies representing this industry are poised to grow substantially in the coming years. Carefully selecting and investing in companies that are carving long-lasting competitive advantages will help investors enjoy lucrative investment returns in the future.