Vegan Lifestyle Company Opening Huge Flagship Store in Hillcrest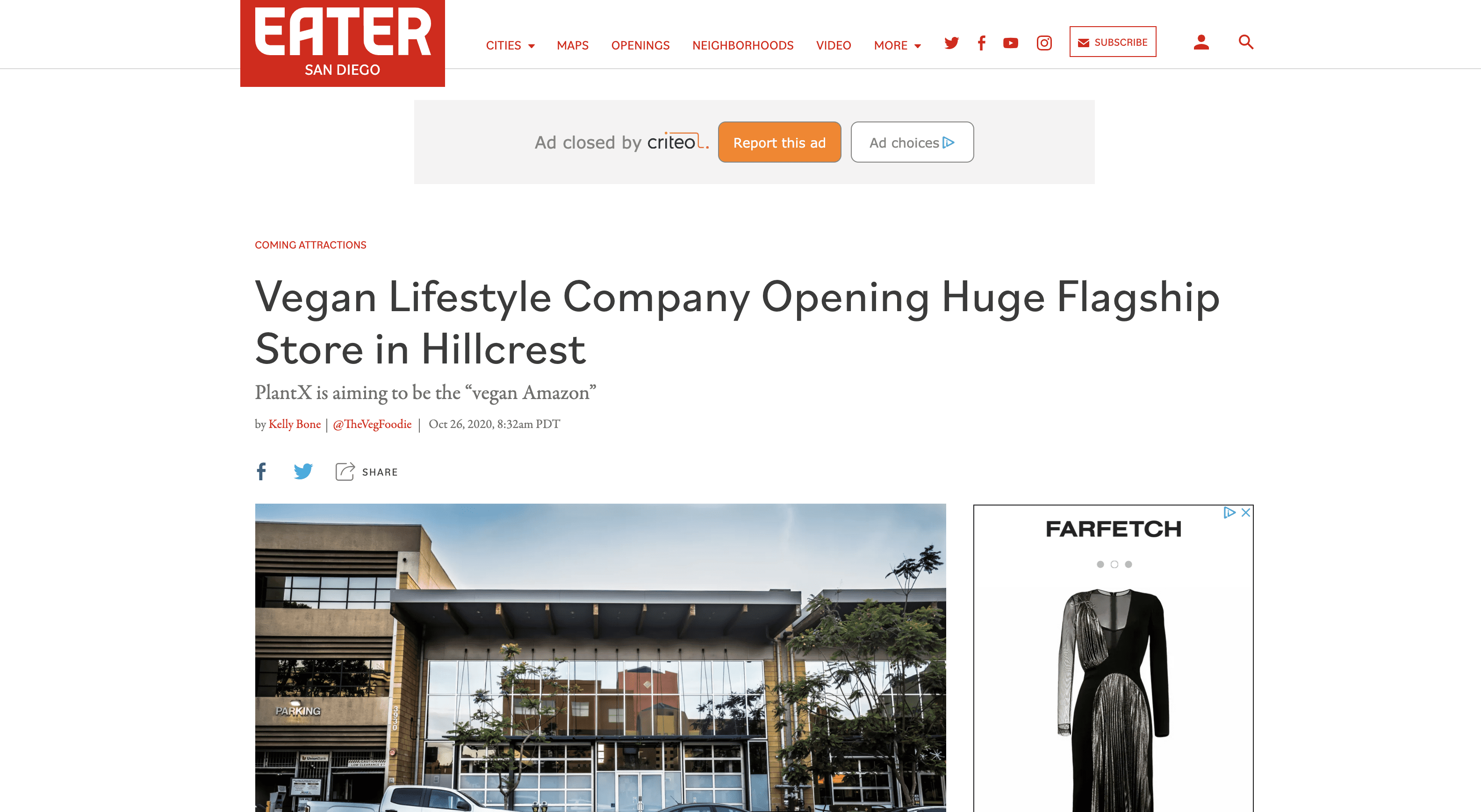 Vegan Lifestyle Company Opening Huge Flagship Store in Hillcrest
PlantX is aiming to be the "vegan Amazon"
The Hillcrest neighborhood will soon be home to the first PlantX retail location. The Vancouver, British Columbia-based company launched in February 2020 under Canadian e-commerce expert Sean Dollinger, with a website that features vegan grocery items, meal delivery, plants, recipes, and a vegan restaurant locator.
PlantX has partnered with Liv Marketplace, an LLC established by San Diego's Shawn Kattoula of Country Wine and Spirits, to kickstart their U.S. presence.
Slated to open in early 2021 at 3930 5th Avenue, in the 4,515-square-foot space that formerly housed H2O Sushi and Izakaya, the all-vegan store will offer pantry products, refrigerated and frozen foods, and pre-made meals developed by Los Angeles chef Gregg Drusinsk that will be available for delivery or grab-and-go. There will also be an on-site coffee shop along with an education center. The lease was brokered by Location Matters.
The first San Diego store is intended as a prototype, with the goal of national expansion within the U.S. as well as an increased online presence internationally; the intent is to establish itself as the "vegan Amazon."
The Hillcrest flagship is being designed by Iris Construction Management, which specializes in turnkey franchising solutions and developing consistent brand identities. In an interview with Iris' Scott Kurz, he explains that the heart of PlantX spaces will be anchored by an education center and a "360° glass greenhouse", and many will include floor-to-ceiling interactive recipe kiosks.
PlantX sees the new contactless Covid-19 retail standards becoming permanent and intends to incorporate them into the design. Alexandra Hoffman, PlantX's chief marketing officer, explained, "all products will have QR codes that can be scanned via the PlantX app and added to the cart on your phone. You can literally checkout on your phone and walk out with all the products you scanned. Also, if you don't want to take the products with you, you can have them shipped directly to your home." Traditional check out will be available as well.